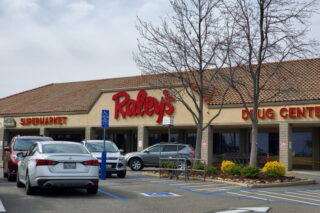 Renovation inside the 55,000-square-foot Raley's grocery store nearest Antelope Road and Interstate 80 is the latest of several changes happening at the Summerhill Plaza.

The plaza recently saw the construction of a new Dutch Bros coffee drive-thru open in November, and the Dollar Tree and Round Table Pizza also were remodeled and expanded. Most recently, several building in the western area of the plaza behind Raley's were listed for sale — with the "west wing" being marketed as a medical, dental and healthcare hub.
Raley's remains open during the renovation, but construction and interior work has shrunk floor space. A visit to the store earlier this month showed several portions of the front-facing wall of the store had been redone, with more interior finish work still needing to be completed. Rows of empty shelves were also seen in a portion of the store.
Raley's spokeswoman Chelsea Minor said the remodel includes new flooring and acoustical ceiling panels, along with new interior paint and decor. She said there will also be new self check-outs, sliding doors, and a new area for staging and supporting an expanded "eCart service," which is Raley's delivery service.
"There will be no changes in the offerings or availability of products for customers," Minor said in an email last week, saying that floor space will be better utilized for efficiency. For comparison, she said new Raley's stores are 36-40,000 square feet, while the Citrus Heights Raley's is more than one-third larger in size.
She said more dedicated space for e-Cart will allow for more storing of items for shoppers and "will allow us to open more 'time slots' for pick-up or delivery."
Minor said Raley's has seen a "huge uptick" in usage of its delivery service during the pandemic, with the trend continuing
"The pandemic forced customers to try eCommerce," she said. "We have found that our personalized service has retained customers using the service more for convenience."